Impress this Holiday Season with Delicious and Decorative Recipes
The holidays are here and we want to help you 'wow' your friends and family this season. Graduating from the kids table requires the essential holiday goodies: mini pies, a cookie recipe and a lighted table centerpiece, all featuring fresh fruit. We're partnering with Chelsea "Peachtree" Vetre to bring you delicious holiday treats and a showstopping table display that are simple to make and have exciting, bursting flavors.
Whether you're hosting a Friendsgiving, family party, baking with the kiddos or bringing treats to the office, these recipes and centerpiece will bring your holiday festivities to the next level. Check out these bites and decorations with Stemilt's World Famous Fruit to spread holiday cheer (and impress!):
Want more delicious pairings and fruit ideas? Check out The Stem, Stemilt's blog, for additional recipes and more.
Get your appetizers to stand out by providing yourself and your friends and family their very own mini pie bites! All it takes is combining our apples and sweet potatoes for a scrumptious new pie recipe. Pair the mini pie bites with an apple rum drink recipe to become the ultimate holiday season guest or host.
Ingredients
1 cup of Stemilt Sweetango Apple (approx 1 apple)

1 cup Sweet Potato (approx. 1 small potato)

1/2 cup White Onion (approx 1/2 medium size onion)

3/4 cup Cheddar Cheese, shredded

2 Premade Pie Crusts

2 tbsp Butter, separated in 1 tbsp each

1/2 tsp Garlic Powder

1/2 tsp Salt;

1/2 tsp Pepper

1 Egg
Make your holiday table extravagant with these savory Apple & Sweet Potato mini pies
14 pies servings

American

Appetizers, Dinner
Instructions
Prep the Filling:
Begin by peeling both the Stemilt Sweetango Apple and sweet potato. Then, core the Stemilt Sweetango Apple and cut it into bite-sized pieces.
Next, cut the sweet potato into bite-sized pieces as well. Bring 4 cups of water to a boil then add the cut up Stemilt Sweetango Apples and sweet potatoes into the water. Allow both to boil until soft, approximately 10-13 minutes.
While the Stemilt Sweetango Apples and sweet potato pieces are boiling, begin making the caramelized onion. Slice the onion thinly, approx ⅜ inch wide, and evenly.
Add 1 tbsp butter to a skillet over medium-low heat. Once the butter has melted, add in the onions, coating them in the butter.
Continue to stir until the onions become caramelized. This can take up to 20 minutes. If you notice the onions are burning, add 1 tbsp of water, stir then lower the heat.
Once the Stemilt Sweetango Apples and sweet potato pieces are soft, drain them from the water then place them into a large bowl.
Using a fork, mash them until they are completely smooth. Add in 1 tbsp of butter, cheddar, garlic powder, salt, pepper and caramelized onions. Mix until all ingredients are combined.
Preheat the oven to 350 degrees and place parchment paper on a baking sheet.
Baking the Pies:
Sprinkle flour on a clean, dry surface, then roll the premade pie crusts out.
Using a 3 inch cookie cutter, cut the pie crust into small circles to create the mini pie shells. Repeat until there are 28 pie shells.
You will likely need to roll the dough scrap into a ball then re-roll the dough with a rolling pie in order to get all 28 shells.
Place the egg into a bowl and whisk it until it is mixed to make egg wash.
Place a pie shell onto the parchment paper and fill it with 1 ½ tbsp of pie filling. Then, place another pie shell directly on top of the filling.
Using a fork, mesh together the edges of the pie shells to close the pie. Brush the top with egg wash then slit a small vent on the top pie crust to create a vent.
Continue to do so with all additional pie shells, placing the mini pies approximately 1 inch from one another.
Bake for 27-30 minutes, until the tops of the mini pie bites are golden brown.
Try out this dazzling table centerpiece this holiday season. Just add some eucalyptus, Christmas tree vines and DIY fruit lights, with Stemilt's World Famous Fruit. Use this decoration alongside new holiday recipes and you're sure to have a magical meal!
Ingredients
4 Granny Smith Stemilt Apples

3-4 SweeTango Stemilt Apples

3-4 Stemilt Bartlett Pears

4 Tealights

2 tbsp Lemon Juice

1 bunch of Cedar Greens (or any winter greens)

1-2 bunches of Eucalyptus

Holly berries (optional)
Make your holiday table stand out with a one of a kind DIY centerpiece
3 servings

Main
Instructions
To Make Apple Tealights
Begin by placing a tealight candle on the top of the surface of one Granny Smith Stemilt Apple, covering the stem.
Using a pen, trace the shape of the tealight onto the apple. Place the tealight to the side
Using a paring knife, cut along the penline of the traced tealight, cutting directly downward. Then, cut around the traced line again, angling the knife slightly inward.
Insert a spoon into the cut made by the knife then, with gentle force, scoop upward to remove the top portion of the apple.
Brush the inside of the apple with lemon juice to prevent browning.
Place the tealight into the hollowed apple top. If the tealight does not fit, use a spoon to carve the inside of the apple more. Then, brush with lemon juice again and place the tea light.
Setting the Scene
Begin making the centerpiece by placing the Cedar Greens down the center of the table.
Then layer the eucalyptus on top of it. Next, add the Stemilt Apple candles, spacing them throughout the length of the table.
Add Stemilt Bartlett Pears and Stemilt SweeTango Apples throughout the table, placing some directly on top of the greenery and others next to it. Weave holly berries into the greenery, sprinkling them throughout to add color.
Finish setting the table by adding golden candlesticks, and place settings. Light the candles and enjoy!
Calling all eggnog lovers! This mouth watering cookie brings a sweet and savory taste to your taste buds. Try "pearing" it with a citrus pear cocktail for the ultimate pear treat!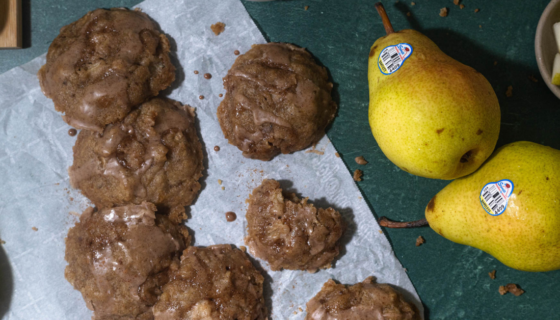 Ingredients
For Spiced Pear Cookies

1 cup Stemilt Bartlett Pear, peeled

1 Flax Egg (1 tbsp ground flax + 3 tbsp water)

3/4 up Brown Sugar, packed

1/4 cup white sugar

1 tsp Vanilla Extract

1 cup Coconut Oil, melted

1 1/2 cups All Purpose Flour

1/2 tsp Baking Soda

1 tsp Ground Cinnamon

1/4 tsp Powdered Ginger

1/4 tsp Salt

For Eggnog Drizzle

1 cup Powdered Sugar

1 tbsp Coconut Oil, melted

1/2 tsp Vanilla Extract

2 tbsp Eggnog

1 tsp Ground Cinnamon

1/4 tsp Salt

Note: 1 egg can be used in place of the flax egg
Nothing says holiday party like Spiced Pear Cookies with Eggnog Drizzle!
14 servings

Amer

Dessert
Instructions
Preheat the oven to 375 degrees F and place parchment paper on a baking tray.
Begin by peeling and coring the Stemilt Bartlett Pear. Cut the pear into bite-sized pieces.
Next, prepare the flax egg by combining 1 tbsp of ground flax with 3 tbsp of water. Mix then allow it to sit for 10 minutes.
Once the flax egg's texture is gelatinous, combine the flax egg, brown sugar, white sugar, vanilla and coconut oil in a medium size bowl. Whisk until it is combined. It will be a gritty, loose texture.
Then, add in the all purpose flour, baking soda, cinnamon, ginger and salt. Mix well until a soft dough forms.
Gently fold in the Stemilt Bartlett Pear pieces into the batter until the pieces are well distributed within the batter.
Scoop 1 ½ tbsp of the cookie dough batter, rolling it into a ball and placing it on the parchment paper.
Continue to do so with the rest of the batter, spacing the cookies approximately 1 ½ inches apart.
Bake on the top rack for 13-15 minutes then allow to cool for 10 minutes.
While the cookies are baking, begin making the eggnog drizzle by placing all of powdered sugar, coconut oil, vanilla extract, eggnog, cinnamon and salt in a small bowl and whisking until a loose icing forms.
Once the cookies have cooled, use a spoon to drizzle the cookies with the eggnog drizzle. Option to sprinkle extra cinnamon on top.
Due to the fresh pears in these cookies, these cookies are best kept in an airtight container in the fridge for up to 3 days.