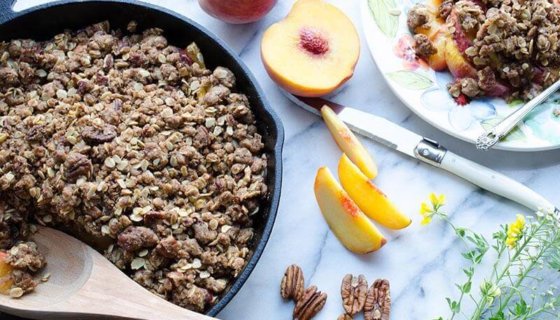 Ingredients
For Topping:

3/4 cup all purpose flour

3/4 cup rolled oats

3/4 cup chopped pecans

1/2 cup dark brown sugar

1/4 cup granulated sugar

2 teaspoons ground cinnamon

1/2 teaspoon salt

2 teaspoons pure vanilla extract

8 tablespoons unsalted butter, melted

For Filling:

6 medium to large Stemilt Artisan Organics peaches, sliced

2 tablespoons granulated sugar

1/2 teaspoon ground cinnamon

2 tablespoons all purpose flour
Summertime calls for a peach crisp and this delicious dessert recipe combines organic peaches with chopped pecans, brown sugar, and rolled oats.
8 servings

American

Dessert

Easy
Instructions
Preheat your oven to 350 degrees.
In a medium bowl, combine the topping ingredients and stir to combine. Set aside.
Grease the bottom of an oven-safe 10 to 12 inch skillet or baking dish.
Add the peach slices, sugar, cinnamon and flour and stir until the peaches are coated.
Cover the peach mixture with the topping completely.
Bake for 40 to 45 minutes or until the top is golden and the filling is bubbly.
Remove and cool on a wire rack for at least 15 minutes.
Serve warm or at room temperature with a scoop of vanilla ice cream or a dollop of whipped cream, if desired.
Nutritional Information
Per Serving
Calories:

381

Fat Content:

20g

Protein Content:

5g

Carbohydrate Content:

50g

Sugar Content:

32g

Sodium Content:

147g