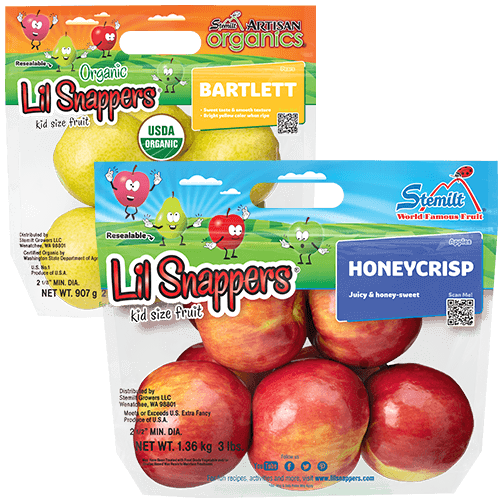 About The Fruit
Lil Snappers® are delicious Stemilt apples and pears in kids' favorite sizes and flavors. These fruits may be petite, but they are big on flavor and loved for their crisp and juicy bites. Most Stemilt apple and pear varieties are available as Lil Snappers®.
You can tell by the package and size of fruit that these apples were born for snacking. They are the perfect lunchbox addition but could also be sliced and served for a snack. Diabetics love the portion size of Lil Snappers® fruits too!
More About The Fruit
Introduced in 2011, Lil Snappers® is a line of three-pound pouch bags of either apples and pears, and a parents' dream when it comes to filling lunchboxes and prepping snacks. Stemilt grows fruits in all sizes, and our Lil Snappers® packages are reserved for our most petite fruits with super flavors.
We share all our favorite apples in Lil Snappers®, and Artisan Organics™ Lil Snappers® apples and pears are available too. You'll see Honeycrisp, Fuji, Gala, Pink Lady®, Piñata® and more apples throughout the year. We also have Lil Snappers® pears, including Bartlett, d'Anjou, Bosc, and Red Pears. We hope you love the fun, flavors, and goodness in every pack of Lil Snappers®.