We care about tomorrow, and believe the brightest future comes when we nurture greatness from farm to family.
Responsible Choice® is Stemilt's sustainability and social responsibility program that our founder Tom Mathison started in 1989. The early years of Responsible Choice® focused on farming organically and introducing integrated pest management practices to orchards. Today, we make the Responsible Choice® by nurturing people and the planet. We want our team members and their families to live happy and healthy lives, and enjoy the communities where they live, work, and play.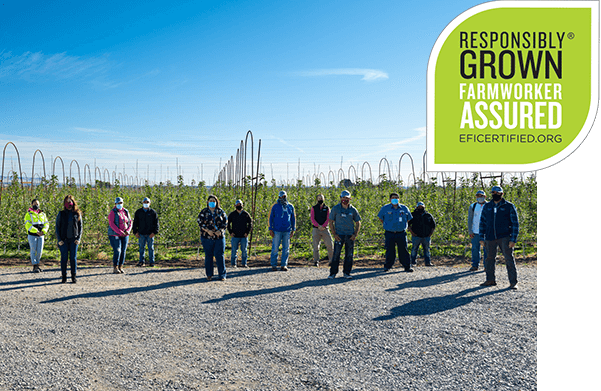 To enhance the development and success of our Stemilters, we set out on a journey to become the first tree fruit grower to certify all orchards and packing facilities through the Equitable Food Initiative. Through EFI, we trained and developed cross-functional leadership teams to foster continuous improvement throughout our operations. Our EFI certifications ensure that we follow 300+ rigorous standards related to food safety, pest management, and responsible labor practices. It means that World Famous Fruit is Responsibly Grown, Farmworker Assured.
As a part of our values to social responsibility and as a major employer in Central Washington, Stemilt gives to the communities around it. We believe in providing necessities to those that need it most, so each year, our Stemilters come together during the holiday season to adopt the gift list for foster children in our community. We also contribute to the Washington Apple Education Foundation college scholarships to students with agriculture backgrounds and sponsor many sports teams and events in our community.
We are also fruit growers, and we want the next generation to grow up enjoying our wholesome fruits. We love supporting nutrition, education, and activities for kids. From fun runs and soccer seasons, to getting fresh fruit into more childrens' hands through regular donations, we believe in nurturing health and activity in our communities.
Stemilt follows the famous words of our founder Tom Mathison when it comes to environmental sustainability: "We're only caretakers of the land for a short amount of time, so we must work to leave it as good as we can, or better if we can." In compliance with Tom's statement, we have Kyle Mathison's World Famous multi-acre compost farm that regenerates our green waste into custom, nutrient-rich fertilizer to fuel the growth of our fruits, we are the leading producer of solar energy in Chelan County, and we have numerous water and energy conservation programs in place so that we protect our natural resources.
Our Responsible Choice® program is a big part of seeing that Stemilt exists to cultivate people and delight consumers. We rely on many hands to grow World Famous Fruit, and we're working to build a culture that cultivates excellence within each Stemilt team member. Creating a bright future for our passionate people helps build great teams and makes our business sustainable for future generations to come.
Did you know a ladybug was added to Stemilt's logo in 1989 to signify the company's commitment to Responsible Choice®?
Ladybugs are also known as a beneficial insect to orchardists.