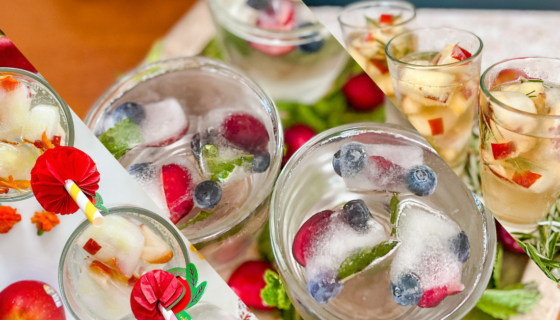 Ingredients
Water

Ice Cube Tray

Optional diced/quartered Fruits:

Cosmic Crisp® Apples

Stemilt dark-sweet cherries

Blueberries

Raspberries

Pomegranate Arils

Honeydew Melon

Pineapple

Mango

Coconut

Optional herbs:

Mint Leaves

Rosemary Stems

Edible Marigold Flowers

Grated ginger
Fruit ice cubes are super-easy to make, and the combinations are endless.
16 ice cubes servings

American

Drinks
Instructions
Wash and cut your fruit into small quarter cubes.
Evenly distribute the fruit and herbs across the ice cube tray compartments.
Pour water over to fill the compartments.
Freeze for at least two hours or until full solid.
Serve with favorite drink (water, sparkling water, lemonade, juice, or cocktail).
Note: For each of these fruit ice combos, a standard 16-compartment ice cube tray was used.
Nutritional Information
Per Serving
Calories:

81

Fat Content:

.5g

Cholesterol Content:

0mg

Sodium Content:

1mg

Carbohydrate Content:

20.5g

Fiber Content:

3.4g

Sugar Content:

14.1g

Protein Content:

1.1g