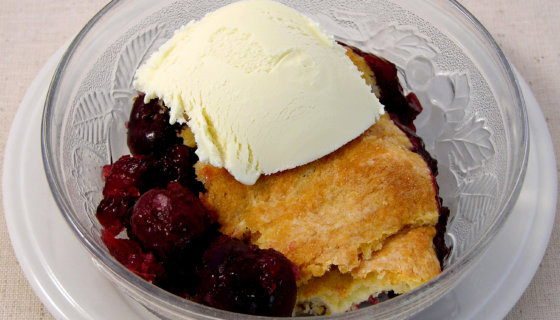 Ingredients
4 cups fresh cherries, pitted and cut in half

1/2 cup granulated sugar

1 cup flour

1 tsp baking powder

2 tbsp sugar

3/4 tsp salt

1/4 cup shortening

1/4 cup plus 2 tbsp milk
A slump is an old-fashioned fruit dessert, with a pie-like filling that uses less sugar.
8 servings

American

Dessert

Moderate
Instructions
In a large saucepan, combine the cherries with the sugar and stir to coat.
Cook over medium low heat until sugar is melted and the mixture begins to bubble subtly.
Pour into 8 x 11 baking pan. In a bowl, combine flour, baking powder, sugar and salt.
Cut the shortening into the flour mixture.
Add 1/4 cup plus 2 tablespoons milk and stir until all dry ingredients are mixed in.
Roll out dough to fit the pan, and place on top of the cherries.
Bake at 350 degrees for 45 minutes, or until dough is golden brown and cooked through.
Nutritional Information
Per Serving
Calories:

273

Protein Content:

3 g

Carbohydrate Content:

52 g

Fat Content:

7 g

Saturated Fat Content:

2 g

Cholesterol Content:

0 mg

Sodium Content:

282 mg

Fiber Content:

2 g

Sugar Content:

38 g