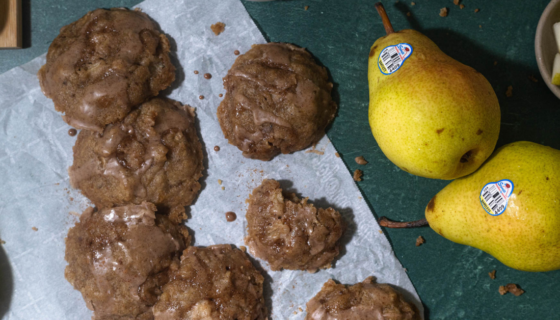 Ingredients
For Spiced Pear Cookies

1 cup Stemilt Bartlett Pear, peeled

1 Flax Egg (1 tbsp ground flax + 3 tbsp water)

3/4 up Brown Sugar, packed

1/4 cup white sugar

1 tsp Vanilla Extract

1 cup Coconut Oil, melted

1 1/2 cups All Purpose Flour

1/2 tsp Baking Soda

1 tsp Ground Cinnamon

1/4 tsp Powdered Ginger

1/4 tsp Salt

For Eggnog Drizzle

1 cup Powdered Sugar

1 tbsp Coconut Oil, melted

1/2 tsp Vanilla Extract

2 tbsp Eggnog

1 tsp Ground Cinnamon

1/4 tsp Salt

Note: 1 egg can be used in place of the flax egg
Nothing says holiday party like Spiced Pear Cookies with Eggnog Drizzle!
14 servings

Amer

Dessert
Instructions
Preheat the oven to 375 degrees F and place parchment paper on a baking tray.
Begin by peeling and coring the Stemilt Bartlett Pear. Cut the pear into bite-sized pieces.
Next, prepare the flax egg by combining 1 tbsp of ground flax with 3 tbsp of water. Mix then allow it to sit for 10 minutes.
Once the flax egg's texture is gelatinous, combine the flax egg, brown sugar, white sugar, vanilla and coconut oil in a medium size bowl. Whisk until it is combined. It will be a gritty, loose texture.
Then, add in the all purpose flour, baking soda, cinnamon, ginger and salt. Mix well until a soft dough forms.
Gently fold in the Stemilt Bartlett Pear pieces into the batter until the pieces are well distributed within the batter.
Scoop 1 ½ tbsp of the cookie dough batter, rolling it into a ball and placing it on the parchment paper.
Continue to do so with the rest of the batter, spacing the cookies approximately 1 ½ inches apart.
Bake on the top rack for 13-15 minutes then allow to cool for 10 minutes.
While the cookies are baking, begin making the eggnog drizzle by placing all of powdered sugar, coconut oil, vanilla extract, eggnog, cinnamon and salt in a small bowl and whisking until a loose icing forms.
Once the cookies have cooled, use a spoon to drizzle the cookies with the eggnog drizzle. Option to sprinkle extra cinnamon on top.
Due to the fresh pears in these cookies, these cookies are best kept in an airtight container in the fridge for up to 3 days.