Adding Fruits and Veggies to Every Meal
Originally published in June 2016; updated June 2022.
Including healthy fruits and vegetables as a part of your daily snacks is a great way to ensure you eat the recommended 5 servings per day, but how much does 5 servings really mean?
When it comes to fruits, you can consider one piece of fruit as one serving (unless we're talking about watermelons and cantaloupes.) By choosing to eat one apple, apricot, banana, peach, nectarine, avocado, orange, or pear, you can cross off one of the 5 suggested servings of your fruit and veggie intake. You can do the same with veggies by eating one cup of lettuce, broccoli, carrots, cauliflower, or peppers, but eating a handful of raw veggies isn't always the most motivating or appetizing way to increase your intake of vegetables.
We've all grown up hearing "eat your fruits and veggies so you can grow big and strong!" But let's talk about what these superfoods really provide to your body that makes them such an essential food group to us? Fruits and vegetables are low in fat and calories and are chock-full of nutrients your body need to build immunity and prevent disease. They are your source of a plethora of different vitamins, minerals, and fiber. Fruits and veggies help keep you full and satisfied in between meals and can also heavily aid in weight loss.
Think about a time (or two) where you've been super hungry; maybe it's been a long day of walking, you've just finished running a marathon, or you just plain haven't eaten yet today and it's 6 p.m. Think about how fast you're planning on eating once you finally get the chance and how much you will put on your plate. When we get hangry (that angry, hungry feeling) our sights are set on our next meal and we're not too concerned about what it is. If you were to snack on an apple or a handful of carrots prior to eating a big meal, you would eat less of your main course since the edge would be taken off by that fruit or veggie you ate. This is why fruits and veggies are also helpful when it comes to weight loss.
To make eating fruits and vegetables more enjoyable, you can prepare them with dipping sauce, cheese, seasonings, or pair them with breakfast, lunch, and dinner. However you like your fruits and veggies is up to you, but here are some snack ideas to help you reach the suggested 5 servings per day:
Daily Fruit and Veggie Snack Ideas
Cut-up fruit and vegetables are a great snack consideration. Cut them up in advance and keep them in a sealed contained in the fridge. Eat them as is or include some kind of dipping sauce (hummus is a great option and is often vegan and gluten free.) Prepare this snack before heading out the door, or buy prepackaged items, such as sliced apples.
For a quick and easy midmorning or afternoon snack, keep dried fruit and nuts in your desk or file drawer.
Keep your snacks fresh and interesting by combining fruits of different flavors, such as cherries and apples, or blueberries with pears.
Apricots contain nutrients like beta-carotene and Vitamin A. Try eating a fresh apricot, skin and all. Your taste buds will savor the mild sweet taste and your body will reap the health benefits of apricots of healthy skin and eyes.
Combine cottage cheese with Artisan Organics peaches and/or nectarines. You'll not only get a serving of fruit, but also a calcium boost! Try the Cottage Cheese with Peaches recipe here!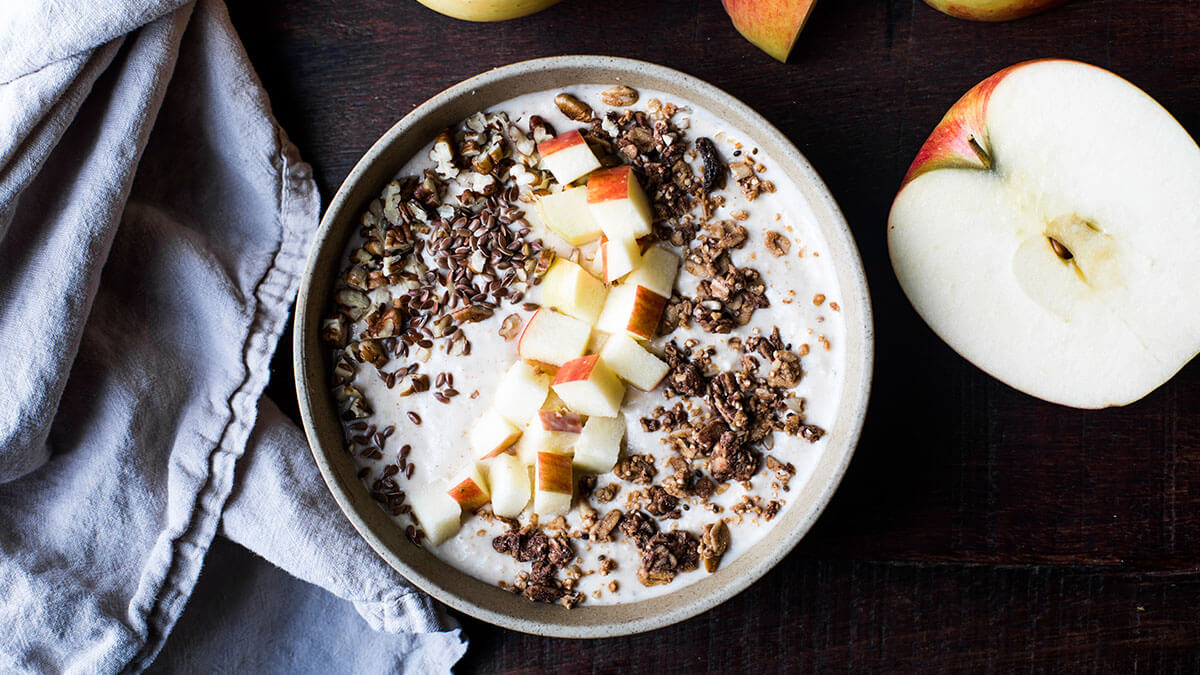 For a satisfying and healthy snack, dip Stemilt apples into peanut butter as is, or mix it up with a drop of honey. learn more about the Best Apples for Peanut Butter here!
For a trail mix-type snack, try dried cherries, raisins, and apricots mixed together in a baggie. You can also add dark-chocolate chips for a healthier alternative to M&M's.
Keep it simple by eating a whole apple or pear for your afternoon snack. Both are rich in fiber and may keep you feeling full until dinner time!
If you're in the mood for something sweet and salty, try eating an apple or pear with your favorite type of nut (almonds and pistachios are great choices.)
Breakfast Ideas
Breakfast is the most important meal of the day for a reason; it revs up the metabolism, providing you with the energy you need to feel good throughout the day. Read through these tips to learn about different ways you can add good-for-you fresh fruits and veggies to your breakfast plate:
Wake up with Stemilt fruit! Add sliced cherries, pears, nectarines or apples to your morning cereal or oatmeal. Try our Baked Apple and Pecan Oatmeal for another way to spice up your morning oatmeal.
Stock up on fresh apples, pears and other fruits to have in your fridge for those mornings when you're running late. Don't skimp on eating breakfast, it helps get your metabolism going.
Start the day with a 12 oz glass of 100% fruit juice. This counts as TWO fruit servings and puts you well on your way to more.
For citrus fans, oranges and grapefruit are a great way to get a dose of fruit in the morning. Eat them fresh or squeeze them into a juice.
Don't forget the veggies in the morning! Combine eggs, bell peppers and other veggies into healthy omelets to quickly feed the whole family.
If you start the day with exercise, be sure to get something in your stomach before you set out. Bananas are great for potassium, while quercetin in apples can help keep your immune system high. Learn more about how you can Fuel Your Fitness and take on the day here!
Fruit or veggie smoothies are a great way to get fuel for the day. Make them at home or stop by your local smoothie shop. Add a scoop of protein powder for an extra boost! Try out 5 Best Apple and Pear Smoothies for inspiration and try tossing in some extra greens like spinach and kale.
Challenge yourself to combine several important food groups into your breakfast. For instance, eat a whole-wheat English muffin with egg and cheese for carbs, dairy and protein, then finish up with a serving of your favorite Stemilt fruit.
Lunch and Dinner Ideas
The potential for adding fruits and vegetables to these two important meals are endless. We've got tips for brown bag lunches, side dishes and even a fun take on a classic dinner:
Add fruit and vegetables to your brown-bag lunch. Carrot sticks, freshly sliced pears and bell pepper slices are all easy to pack and full of nutrition.
Slice fruit onto your sandwich! You'll be surprised at how tasty a ripe pear sliced onto a ham and cheese sandwich can be. Plus, a peanut butter and sliced apple sandwich will win favor with the kids.
Toss your choice of fresh fruit with lettuce, nuts and a gourmet cheese. Pears, blue cheese and pecans make for a great salad combination.
Grill different types of fruit on bamboo skewers for a healthy side dish. Pineapple and soft fruits like peaches and nectarines are great choices for grilling. Try this Grilled Peach and Mixed Green Salad that is healthy, delicious, and quick to make!
Believe it or not, sweet potatoes are rich in antioxidants. Cut them into fry shapes, and then toss with olive oil, your choice of spices (curry and paprika work great) and bake at 350 until they are slightly soft.
Add crunch and color to pasta or potato salad with sliced bell peppers, broccoli florets, carrot slices or cucumber.
Enjoy a new spin on a classic dish! Sauté sliced Stemilt apples (without peel) and onions together until caramelized. Use the mixture as a "topping" for broiled or baked pork chops.
Eat sandwiches or wraps that include several vegetables, such as mushrooms, tomatoes, sprouts, green peppers, cucumbers or other raw vegetables.
One night a week, skip the starch (potatoes, bread, pasta) during dinner and make a fresh fruit salad instead. Use yogurt instead of whipped topping for added nutrition. Try this Apple and Pear Fruit Salad!
Get creative by combining fruits and vegetables into a healthy soup. For instance, roasted butternut squash and pears can be found in many fall soup recipes. The best part? Soup goes a long way, which means you could have it for dinner one night, and lunch the next day! Give this Healthy Crock Pot Soup with Pears and Squash a try.
Dessert Ideas
Dessert may not be the first meal you think of when the word "healthy" comes to mind, but that doesn't mean you can't add in fresh fruits to help satisfy those sweet cravings. The following ideas are great for getting a serving of fruit in several common desserts:
Combine apple slices with peanut butter and honey for a tasty, high-protein dessert.
Heat up baked apples with caramel and cooked oats for a healthy spin on Apple Crisp.
For dessert, try fresh fruit, such as cut-up melon, fresh strawberries or raspberries.
Eat a cup of your favorite Stemilt cherry variety shortly before you go to sleep. Not only are they delicious, but cherries contain melatonin, a natural hormone that helps

regulate sleep patterns. Learn more about how you can receive Melatonin From Cherries here!
Indulge with a delicious peach smoothie. Simply blend 2 cups of peeled, pitted and diced Artisan Organics peaches, a cup of vanilla ice cream, 1/2 cup of low-fat milk and a tablespoon of lemon juice. Pour and serve!
Enjoy a classic dessert – Poached Pears with red wine reduction drizzled on top.
Top off a bowl of frozen yogurt or low-fat ice cream with berries or sliced fresh fruit. They add flavor and texture.
Make a healthy fruit trifle by layering several different fruits between low-fat whip cream or cool whip.
Make fresh fruit popsicles for a kid-friendly dessert. Simply pick your favorite fruits, place them in a popsicle tray with water and freeze until hard. Check out a recipe for Cherry Lime Popsicles on our Stem Blog.