Originally published in November 2014; updated October 2021
One of my favorite parts of my job is taking people on tours of our farms. Whether it's cherries on Stemilt Hill, apples in the Columbia Basin, or pears in the nearby Wenatchee and Entiat River Valleys, touring the scenic areas where our orchards call home, experiencing the action of harvest, and sharing with people why these locales are perfectly suited for growing Stemilt fruits is simply the best!
One brand that is always fun to talk about is our Rushing Rivers® pears. It's a special label thanks to our pear's unique growing locales, the Wenatchee and Entiat River valleys. They are without question, the best places in the world to grow World Famous pears. We grow multiple pear varieties under the Rushing Rivers® brand including:
Red Pears: There are three pear varieties that make up this group, including: Starkrimson, Red Bartlett, and Red d'Anjou. At Stemilt, we primarily grow Starkrimson and Red d'Anjou. The main difference between these pears and the leading varieties (Bartlett and d'Anjou) is that they're red in color! These pears are a great choice for cheese boards, or any fresh snack for that matter.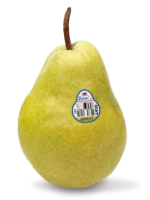 Bartlett: This iconic bell-shaped pear is the main variety you'll find in stores from August through January. It differs from the winter d'Anjou variety by changing color as it ripens. Bartlett's are best enjoyed when they're yellow and the skin gives slightly when pressure is applied near the neck end. Bartlett pears are very popular for snacking, and the main variety used for canning.
D'Anjou: This winter pear variety is egg-shaped and green in color. We call it a "winter" pear because it replaces summer varieties like Bartlett and Starkrimson in supermarkets each winter, and also because it harvests after all the summer varieties are complete (in October). D'Anjou has a firmer texture than Bartlett and won't change color as it ripens (so you have to check the neck). Once it's ripe and ready, it's hard to beat the juicy, sweet and citrus-like flavor of a d'Anjou. I prefer this pear as a fresh snack, but it's also great for roasting or baking as it can withstand high temperatures.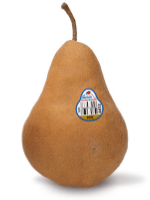 Bosc: You'll recognize Bosc as the bronze-colored pear with an elongated neck. It differs from other pear varieties not only by its color but also by its sweet and spicy flavor. You'll recognize notes of all your favorite fall spices (cinnamon, nutmeg, etc.) in this pear, making it a great choice for poaching or baking.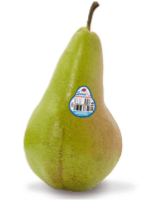 Concorde: Concorde is a specialty pear that looks similar to other green pear varieties, but tastes quite unique. It is very sweet with a juicy flesh and vanilla-like flavor. It's a great pear for all purposes, but its dessert-like flavor makes it a favorite of mine to eat all on its own.
The Wenatchee and Entiat River Valleys are neighboring valleys that are surrounded by alpine peaks from the Cascade Mountain range, which keep air flowing through our orchards and help pears stay cool during the warm summer months. The same mountains recharge the Wenatchee and Entiat Rivers each spring with fresh snowpack and ensure orchards and trees living in them have water for the growing season to follow. The soil that sits beneath each tree is rich with nutrients to provide pears with the fuel that they need to grow in size and develop dessert flavors. Add in growers like Rudy Prey and Mike Taylor and their family's rich farming heritage and you have the perfect recipe for growing the best pears ever.
We also handle our pears with care at our facilities through the packing and shipping process. Pears are close relatives to apples and able to maintain flavor and quality beyond harvest making them a good candidate for Controlled Atmosphere (CA) Storage. CA storage allows us to have pears many months throughout the year and our Research & Development teams are constantly working to ensure they are stored in the very best conditions. Once they are ready to be packed, they are pulled out of CA storage and packed on our dedicated pear lines to ensure quality is maintained so that when they arrive to your stores, they are of dessert-eating quality just a few days after purchase.
Delighting consumers with our World Famous Fruits is part of our purpose here at Stemilt and we hope that our Rushing Rivers® pears fulfill this promise!
If you are looking for some pear snacking inspo, we have listed a few of our favorites down below. Pears are a great way to snack healthily or incorporate into your next dish. Pears also pair well with cheese and can be a great addition to any charcuterie board! Check them out!
If you have further questions, check out our Farm to Fork page or FAQs around pears. If you still can't find the answer you are seeking, leave a comment below or contact us here!