Great Juice Starts Here
Fresh Blenders™ juicing apples offer you with a healthy and flavorful apples to create juice or smoothie blends at home. The apples inside each grab-and-go bag come straight from our orchards in Washington State. They may be a little misshapen or less colorful than the apples you like to buy for snacking, but that's why they are perfect for your juicer or blender.
Watch Fresh Blenders™ Video
Characteristics
Enjoy your favorite apple varieties in a new way when you juice with Fresh Blenders™ apples. Each bag has enough apples to make a juice or smoothie every day for a week, and at a great value. Look for certified organic Fresh Blenders™ in a 4lb. size.
Look for the Ladybug!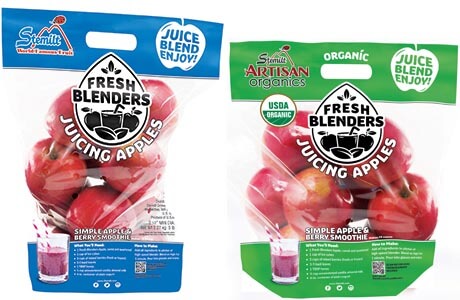 How to use Fresh Blenders™
When can I find Fresh Blenders™ ?
You'll find our Fresh Blenders™ juicing apples in stores year-round.
Fun Facts
The apples in every Fresh Blenders™ bag were grown by Stemilt family farmers in sunny central Washington.
Apples are great for juicing because they are primarily made up of water (84% of an apple is water). They also add froth to a smoothie!
Use our juice and smoothie recipe collection to create a new blend at home.